Isn't this graphic just lovely?
Reflects just sweetness and gentility of the season.
At precisely 9:15 a.m. this morning, Spring Sprang!
First came Daylight Savings and now with the advent of Spring,
the cold dark winter goes from our
windshields to rear view mirrors.
I was always told not to wish my time away
as I would one day want it all back.
Gulp.
Deep truth

.
Never-the-less,
always happy to see winter gone....

With the new season, I have woken from my long
winter's nap, rubbed my sleepy eyes,
and have discovered the color
PINK!
But hold on...I don't like the color pink.
Y

ou will not find that color in my closet.
It is not scattered throughout my home décor.
I don't focus on that color for my garden landscape.
I am a white rose, lemon and lavender gardener-gal.
Pink is low on my color totem pole . . .
But Hmmmm - then this happened today:

M
y rear view mirror view on the way to work this morning ...
Mr. Sun was feeling his

PINK

feminine side.
Then as I sat down at my desk...
Then the new geraniums at my front walk
Holy Moly - that color again -
So w
hilst wandering and marveling in this intoxicating color
with newly awakened eyes,
hummingbirds chirping and swooping around my head,
I bring you my "non-pink" garden....
Isn't it all just lovely?
Bold color strokes or lightest pastel, the color taps your shoulder
and says "Aren't I pretty?"
So, for this one day, the first day of Spring,
BLUSH
and

BASHFUL

are....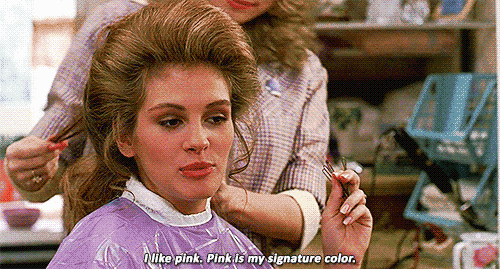 Thank you Ms. Julia
and
thank you for stopping by Moonlight Lane.
x0x - holly